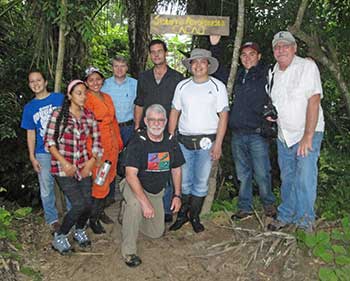 100000 Strong In The Americas Innovation Grant - Colombia
Young leaders innovating for the reinvention of an agricultural sustainable region New Mexico State University, Las Cruces, USA and Universidad de La Salle, Bogota Colombia
On May 2014 the Universidad de La Salle in Bogota, Colombia was awarded the Partners of the Americas and the 100,000 Strong in the Americas Innovation Grant. This grant provided a partnership and an exchange of three professors and eight students between the Universidad de La Salle and New Mexico State University (NMSU) campuses. The purpose of these exchanges were to provide an opportunity to share ideas between professors and students from NMSU and professors and students from the Universidad de La Salle in Colombia.
In November of 2014, NMSU professors Mick O'Neil, Dan Smeal, and Blair Stringam travelled to Colombia with 4 students to take part in this exchange. In April of 2019, professors from the Universidad de La Salle travelled with four students to NMSU to continue with the exchange. This interchange involved learning about agriculture in both countries as well as providing enriching cultural experiences. Professors from NMSU were also able to provide some assistance in irrigation design to the researchers in Colombia.
As part of this exchange, participants from NMSU were able to visit the Universidad de La Salle campus in Yopal. This campus was developed to house and educate students whose lives had been seriously impacted by violent drug cartels. The Universidad de La Salle developed this campus to try provide an alternative career path for these students so that they would not be drawn into the cartels as well as expand the agricultural industry.
The exchanges provided a unique and educational experience for all that were involved. In addition, both universities have started to pursue graduate opportunities on each other's campuses. In this framework, the program has addressed the effects of drought on crops managed by La Salle students that are enrolled in the Agricultural Engineering program and whose graduation projects depend on the sustainability of their implementation projects.
---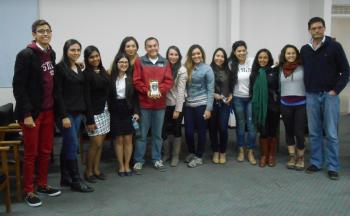 Small Grant F2F Project Colombia
USAID-Funded
John Ogonowski and Doug Bereuter Farmer-to-Farmer Program (F2F)
Colombia Agriculture Network Development Opportunity
August 1, 2017 to July 31, 2018
Ten volunteers from New Mexico State University assisted over 900 Colombians, making 48 total technical, organizational and business recommendations to improve the re-emerging agricultural network in post-conflict Colombia. These activities were in partnership with the host organization, Salva Terra, focusing on northwest departments between Medellin and Cartagena. As a group, the NMSU volunteers focused on activities and recommendations that would improve the flow of information from agricultural research facilities to the small-plot farmer or livestock producer. Salva Terra is a non-governmental organization that focuses on social equity challenges through improving sustainable agricultural production in post-conflict Colombia. It works to reintegrate excluded segments of the population through productive projects while cultivating an appreciation and respect for resource management.
The concept was not to try to construct an extension service but to explore the current gaps in the system that moves information from the point of research to the end users who are living in post-conflict areas. The experience and observations of the volunteers, however, will be valuable lessons learned for USAID, VEGA, NMSU, the host, the partner and the Colombians.
NMSU volunteer's initial engagement looked at the challenge through the eyes of the host, the capacity of the host to address the challenges and other tools used by the host to reach the stated development goals. These organizational activities and capacity building efforts helped sharpen the host's internal planning and resource management efforts, as well as begin to strengthen linkages with agricultural researchers and universities. Salva Terra was the host NGO that is working with displaced and resettled producers, as well as other Colombians whose lives have been upended by years of civil strife. The challenge facing Salva Terra and other NGOs is the lack of access to a network of technical, research-based information.
Volunteers and Area of Focus
Dr. Brenda Seevers, Professor, Agricultural and Extension Education – organizational structure of extension networks; preparing future generations of field agents.
Dr. Seevers focused on the communication linkages between organizations and the small plot producers, as well as the linkages between the field agents and sources for new, updated information.
Mr. Tom Dominguez, Agricultural Extension Agent – extension methodologies for rural agents.
Mr. Dominguez focused on the fundamentals of agricultural extension systems that are built on needs assessments, targeted work plans, evaluations and continued refinements to the plan based on feedback.
Dr. Mick O'Neill, Professor, Plant and Environmental Sciences – vocational training resources. Dr. O'Neill advised the host, students and targeted small plot producers on low-cost adaptions of technologies that could improve production, reduce loss and improve household income.
Ms. Margie Vela, PhD candidate, Water Science and Management, water management.
Ms. Vela's work in Colombia centered on helping water resource administrators improve quantity, quality and reliability of water supplies to small plot farmers, as well as helping these same producers be active participants in water management.
Dr. David DuBois, Associate Professor, weather and climate: responses and preparedness.
Dr. Dubois worked with the host and others on the fundamentals of weather data collection and interpretation to create baseline understanding of weather patterns. Additionally, his work focused on understanding weather and seasonal forecasts to help farmers make decisions.
Mr. Del Jimenez, Associate Professor, Agricultural Economic, agronomics, soil analysis.
Mr. Jimenez's work centered around managing soils and sites for various types of crop production, as well as recommendations for rational use of agricultural inputs.
Dr. Efren Delgado, Assistant Professor, Family and Consumer Science, food safety, hygiene
Dr. Delgado's work in Colombia focused on sharing information about improving product quality, safety and consistency. He also worked with the host and others on innovative ways to use byproducts of production and processing.
Dr. Richard Pratt, Professor, Plant and Environmental Science – crop productivity, selection
Dr. Pratt provided expert advice and training in the areas of crop pollination, selection and cropping patterns that would be most beneficial to the small plot producers in the target regions.
Dr. Jeanne Gleason, Professor, Innovative Media Research – agricultural communications
Dr. Gleason's work in Colombia focused on technology-enhanced communications and strengthening impacts of targeted messaging.
Mr. Eduardo Medina, Agricultural Mediator, International Extension – farmer organization
Mr. Medina shared his experience with community-based youth organizations and the impact they can have on developing future leaders and professionals.
Outcomes
One of the big outcomes of the project was getting the university that produces field agents (hired as agricultural consultants or 'extensionists') to review its curricula for undergraduates relative to the real job demands for these budding agricultural advisors.
Extracting more value from traditional crops was a focus of several volunteers.
F2F volunteers worked closely with their Colombian host and small-scale producers on understanding and coping with extreme weather events.
Communication strategies by the host, Salva Terra, created a wonderful opportunity for the F2F volunteer and the host's staff to explore how to refine the message about the impact of extension in post-conflict Colombia.
The F2F communications volunteer explored with the host the existing and new communications channels Salva Terra can use to continue telling their story to the public, government agencies, schools and funders.
A significant success of the project was expanding the scope of resources available to the host to continue mining fresh and relevant information.
An overarching success of this Can Do project in Colombia was elevating the host's ability to plan for engaging the community and international resources.