Programa III Congreso Internacional de Agronegocios
Programa III Congreso Internacional de Agronegocios (English Copy)
The 3rd International Agribusiness Congress of Paraguay will be jointly organized by University of San Carlos (USC), Paraguay; University of the Empresa (UDE), Uruguay; and New Mexico State University (NMSU). The virtual congress will be taking place on Oct 8th and 9th, 2021.
During the opening ceremony, Dr. Rolando Flores Galarza, ACES Dean highlighted the NMSU's priority for developing joint activities in the LAC Region, particularly with the Southern Cone, including Paraguay and Uruguay. He also emphasized the importance of increasing collaborative activities within the framework of the signed MOUs with the three institutions involved in the Congress. Minister of MAG, Ing. Agr. Santiago Bertoni emphasized the evolution of the agricultural sector, including agriculture, livestock and forestry, with evident growth in Paraguay over the past several years. He added that MAG is committed to improving the competitiveness of agribusiness, promoting the incorporation of technologies. Rector of USC Paraguay, Ing. Agr. Rolando Dietze, underlined the importance of the Congress organized in conjunction with UDE and NMSU, with a systemic approach throughout the agro-industrial chains, from primary production, transformation processes to commercialization. Ing. Ag. Claudio Williman, Dean UDE talked about the importance of the Congress and joint organization of the congress with USC and NMSU. Drs. Robinson and Miller in their talks spoke about the importance of Global Agribusiness and consequences of global pandemic on the supply chain. Congress was broadcasted live on the virtual platforms including Zoom, YouTube and Facebook Over 1000 participants including researchers, stakeholders, and students attended the congress.
Minister Ing Bertoni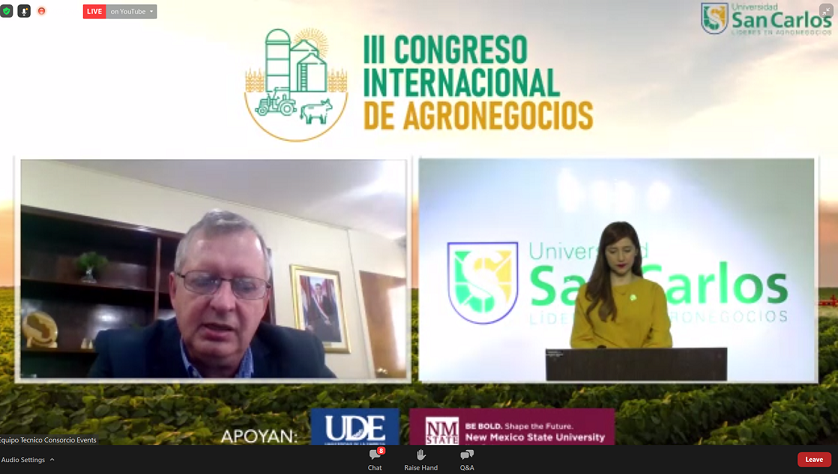 Dean Flores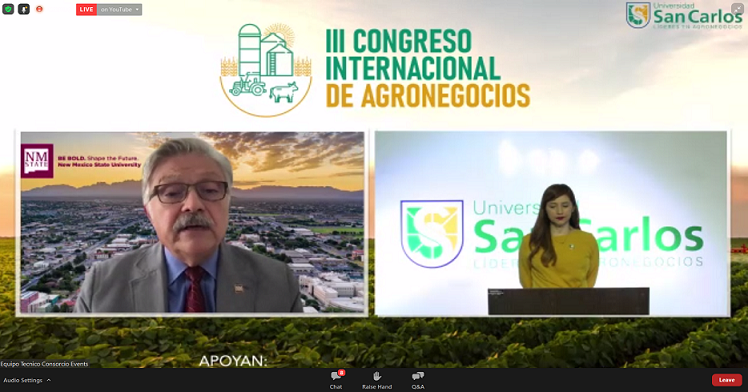 Robinson Miller and Dr. Shukla